Houston, we have a problem; The Arctic ice is melting!!!
Posted On November 20, 2009
---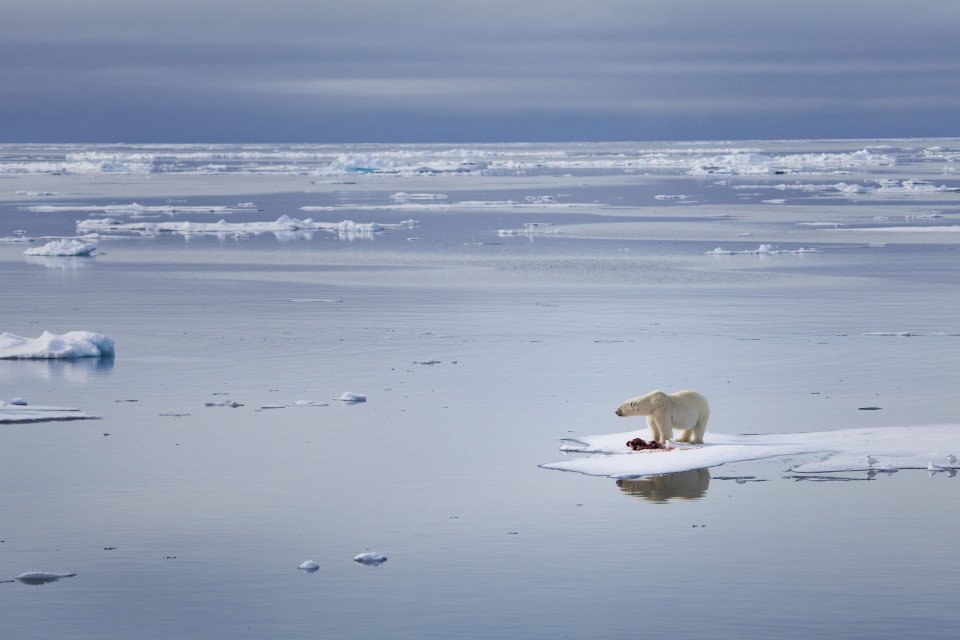 Yes, it is true and melting of Arctic ice is a catastrophic issue. Each one of us have to do our part in saving our planet from 'TODAY' if not already doing. We all know about global warming and melting of Arctic ice. And I know many people say "So… Why should I worry about it??". Well my friends who has this say, we all must worry about it.
How come the ice is melt?
The ice is melting due to global warming. The root cause of all these are:
Increase in Carbon Dioxide, Carbon Monoxide and Carbon in both atmosphere and oceans.
Increased emission of Methane gas from garbage (organic matter) decomposition in the soil.
Increased humidity in the air
Increased Nitrous oxide in air
Deforestation
This phenomenon is called the
Greenhouse effect
. It's like a vicious circle. More emission of greenhouse gases -> Global Warming -> Even more emission of greenhouse gases.
Huh!!! What's causing the increase in green house gases?
Electric Power consumption
In India, 54 percent of electricity is generated through burning coal and 11 percent through burning gas and oil. Burning of coal and gas emits an enormous amount of carbon, methane and other greenhouse gases. The more electricity we use, the more coal and gas they burn to meet the demand. In the graph below we can see how the electricity generation is distributed across sources.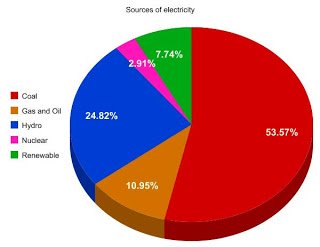 We have to strive to generate majority of our electricity through renewable sources. The above graph should get converted into the graph shown below: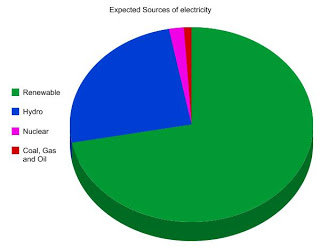 Garbage in dumping grounds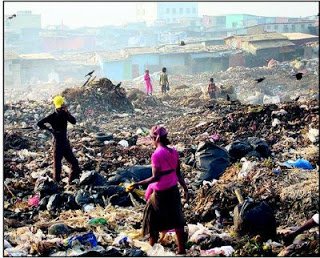 Decomposition of organic waste emits carbon dioxide, carbon and methane into our atmosphere. The garbage that we throw everyday end up in a landfill and stays there till they decompose. And all the greenhouse gases are emitted into our atmosphere making it warmer. Building a bio-gas plant to process these garbage would meet our energy needs and also it reduces the net production of greenhouse gases into the atmosphere.
The Immortals  – Plastics
Plastics are made of polyethylene and can take like 1000 years to decompose. The plastic bags that we throw along with the garbage end up in the dumping grounds that emits harmful greenhouse gases. It also clogs drainage system which adds to the pollution and spreading of diseases.
Wastage of paper and cardboard / Deforestation
1 Tree = approx 8000 sheets of paper.
35 Trees = approx 1000kg of cardboard
I have seen hundreds of printing paper being wasted a day in offices I have worked with. I assume that should be the same in almost every office in the world. We have seen many towns coming up in places where there used to be a forest.
Trees take in carbon dioxide and produces fresh oxygen. Decreasing number of trees means increase in carbon dioxide (a greenhouse gas) and decrease in oxygen.
Others
There are many more reasons why the temperature is increasing. Few other causes:
gasses emitted from vehicles, airplanes.
Carbon dioxide that animals breath out.
Increasing population.
etc…
Big deal.. What if all the ice melts?
The arctic is a methane time bomb. Latest discovery is that there is an enormous amount of methane trapped within the Arctic Ice. Melting of the arctic ice release all the trapped methane into the atmosphere which causes a catastrophic chain reaction of global warming. The melting of arctic ice 'might' result in:
Increase in temperature
Rising sea levels that might flood many of our sea shores
Shift in climate
Tsunami, tornadoes, acid rain
Affects agriculture
Economy crisis
Catastrophe and chaos
War
THE END!!!
But dude.. We have time. It will take centuries for all the ice to melt!!!
Apparently, we do not have much time. The temperature is increasing exponentially. Scientists predict the arctic ice would completely
melt by 2012
. The predictions are based on current trends in temperature rising and melting of ice. Let's study the following top view of the arctic recorded in 2007.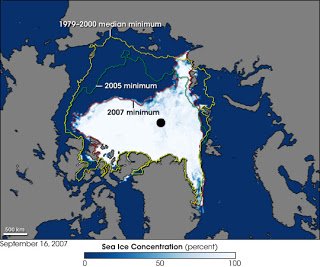 We can clearly see the amount of ice that has melted already. Almost 50% of the arctic is gone within last 30 years. That is a real tragedy. If all the ice melts and the methane trapped in it comes out, our planet would literally turn into an oven and start cooking everything in it.
Hmmm.. How can we solve this problem?
What we need is time. And unfortunately that's what we do not have… The more resources we consume, lesser the time we have. There are many ways each one of us can contribute in reducing our consumption and hence giving more time to fix our problem. We should start following the 3Rs of conserving resources:
Reduce: We should reduce the consumption of natural resources and/or doing something that would harm our planet. Instead of using a plastic glass to drink tea from the vending machine, we could buy a coffee mug; Use jute bags instead of plastic carry bags;
Reuse: If we are in a situation where we must use natural resources we have to think of reusing them. For example, using one plastic glass a day or a week until we get a mug.
Recycle: Use recycled products and recycle used products. We should not just dump the plastics and paper along with other garbage. We should be recycling them.
There are many ways we can fight global warming in our daily routine. I am jotting some commonly known and ignored steps.
Reduce power consumption
Using stairs instead of lifts (it's also healthy)
Switching off lights which are of no use
Making use of the ambient light / zero watt bulbs in the washrooms and gangways
Switching off Fans/Air conditioner/ Heater early in the morning when the temperature is cool
Setting the Air conditioner to room temperature. Ideally 22 – 25 ºC would be sufficient.
Switching off the computers while going home after work (at least during the weekends if not everyday)
Preferring CFL bulbs over ordinary light bulbs
Using biodegradable/reusable products instead of plastic
Using Jute bags instead of plastic bags
Fiber or glass or steel Cups/Mugs instead of plastic cups (especially in parties and offices)
Fiber or glass or steel plates instead of plastic plates (especially in parties and offices)
Save paper
Fiber or glass or steel Cups/Mugs instead of paper cups (especially in parties and offices)
Fiber or glass or steel plates instead of paper plates (especially in parties and offices)
Use handkerchief instead of paper napkins
Re-use waste sheets of papers to print your miscellaneous stuff
Opt for receiving soft copies of your mobile/electric bills instead of paper copies
Preferring walking/public transport
Frankly, I am also guilty of using my father's bike to go to the grocery store which was hardly 1 KM away from my home. I could have rather walked to get the groceries. I now realize that was not the right idea. I agree that there is a convenience factor. But, every good things come with a price tag. The price for this convenience would be your bad health, polluted air, increased temperature and global warming.
Garbage segregation
Separating dry and wet garbage is called garbage segregation. Dry garbage is the plastic/paper cups, tissue papers, plastic / paper plates, etc that we throw into the garbage. Wet garbage is the waste food, and other organic waste that we throw into the waste box. By segregating the waste we have done our part in saving the planet. Now it is the governments responsibility to properly dispose the wet garbage and recycle the dry garbage. But is would be immensely difficult for the government or any organization or person to separate the dry and wet garbage and finally all the plastic/paper would end up in the dumping grounds producing methane gas like forever.
If your organization does not have a proper segregation process, stand-up and raise your voice. The process is not complete until each and everyone in the organization becomes a part of it.
Spreading the word
Learn and teach about causes and effects of global warming
Stop others from making the mistake
Teach your kids to conserve energy and save our planet
Share link to this post to all your family, friends, colleagues and social networking sites like orkut, facebook.
Inspiration
Two things actually inspired me into to writing this post:
A presentation about Global Warming presented by my colleague Saurabh Arora
The movie "2012"
Share your ideas
If you know of any interesting ways to conserve energy or fighting global warming in our daily life, please comment below with your innovative ideas. Ohh.. and don't forget to share this postwith your family, friends and colleagues.
---
Trending Now